Jenis Desktop Power Adapter seri STD-405K-E

Tegangan Output 5VDC,

Output Current3A,

Output Daya 15W
Ini adalah catu daya switching CCD kami dengan 4 kali uji penuaan,

produk memiliki: input tegangan lebar, output Ann kaki, perlindungan over-tegangan, perlindungan overload, perlindungan sirkuit pendek, dll.

Ketinggian keandalan perlindungan ganda.
Fitur:
Rentang input yang lebar: 100-240V, 50 / 60Hz.
Arus penuh, semua menggunakan kapasitor baru
Papan fiber glass (FR-4)
Perancangan rumah perisai khusus untuk pendinginan.
Proses penggunaan plastik ultrasonik, tidak perlu sekrup.

Proteksi: arus pendek, arus lebih, kelebihan beban.

4 kali uji penuaan
Daya Cukup 100%,
Efisiensi tinggi 85%.
Garansi 3 tahun
Parameter teknis
Specification
Model
STD-405K-A
STD-405K-C
STD-405K-E
Output Power
5W
10W
15W
Output Voltage
5VDC
5VDC
5VDC
Output Voltage Toleance
±1%
±1%
±1%
Output Current
1A
2A
3A
Output Current Range
0-1A
0-2A
0-3A
Ripple and Noise
120mVp-p
120mVp-p
120mVp-p
Into line Stability
±0.5%
±0.5%
±0.5%
Load Stability
±0.5%
±0.5%
±0.5%
Efficiency
85%
85%
85%
Input Voltage Range
100-240VAC
100-240VAC
100-240VAC
Input Current
0.06~0.13A
0.18~0.39A
0.3~0.65A
Surging Current
cold 18A/110V 36A/240V
Leakage Current
<1mA/240VAC
Overload Protection
105%~200%
T.C.
±0.03%℃(0~50℃)
Start,Rise,Hold Time
200ms 100ms 20ms
Mechanical Shock
10~500Hz, 2G 10min./1Period,Time 60min
Insulation Strength
I&O:3KVAC I&C:3KVAC I&C:0.5KVAC
Isolation Resistance
I&O,I&C,O&C:500VDC/100MΩ
Working Temperature
-10℃~45℃, 20%~90%RH
Isolation Resistance
-20℃~85℃, 10%~95%RH
Size
79*47.5*26mm
79*47.5*26mm
79*47.5*26mm
Safety Standard
UL1012 REQUIREMENT (NOT APPLY FOR THE MARK)
EMC Standard
FCC PART15JCONDUCTION CLASSA
Acara produk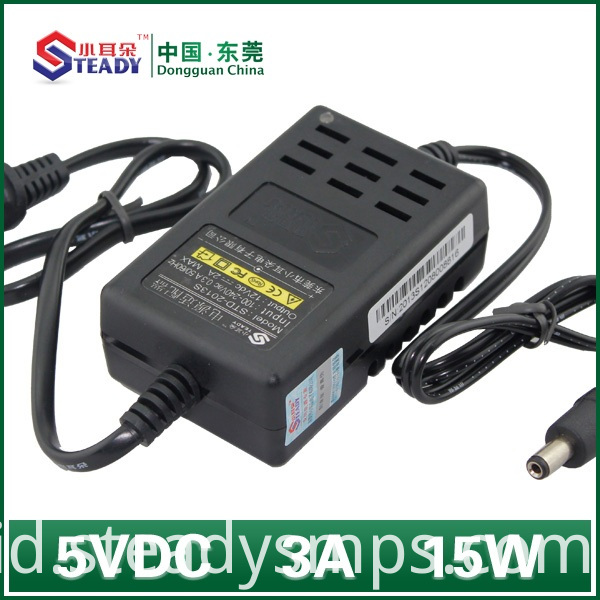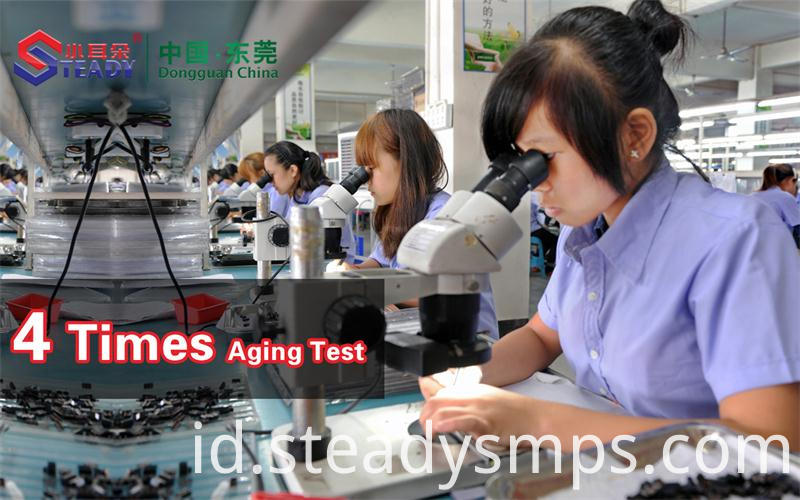 Aplikasi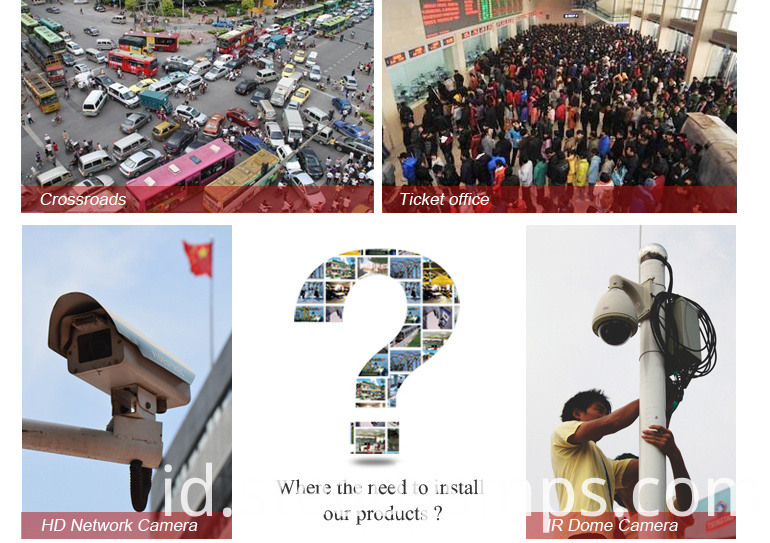 Produk terkait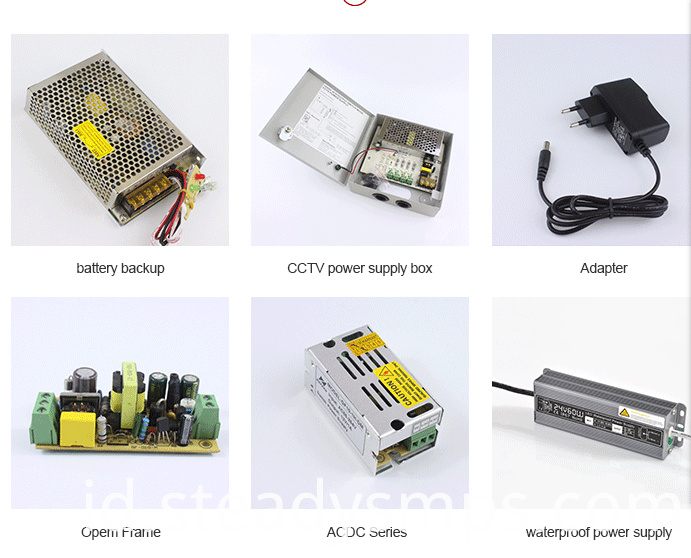 Tentang kami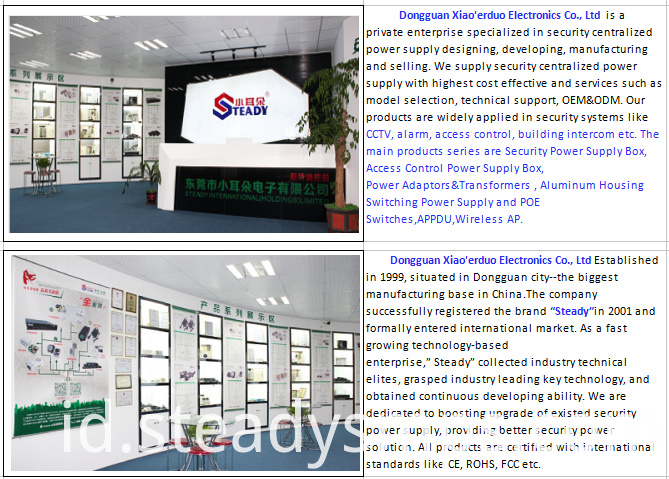 Keuntungan kita:
1. Proses Pembuatan
2. Pameran: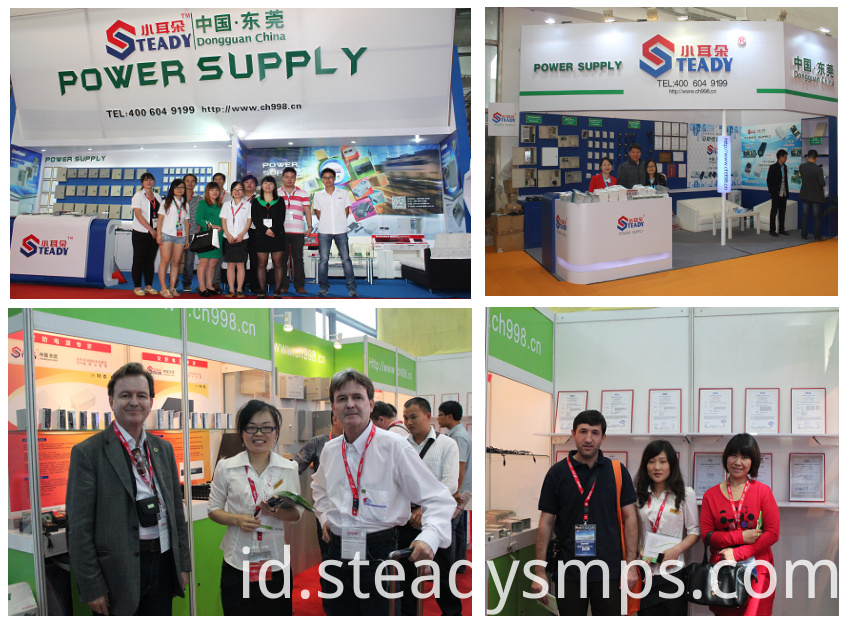 3. Sertifikasi: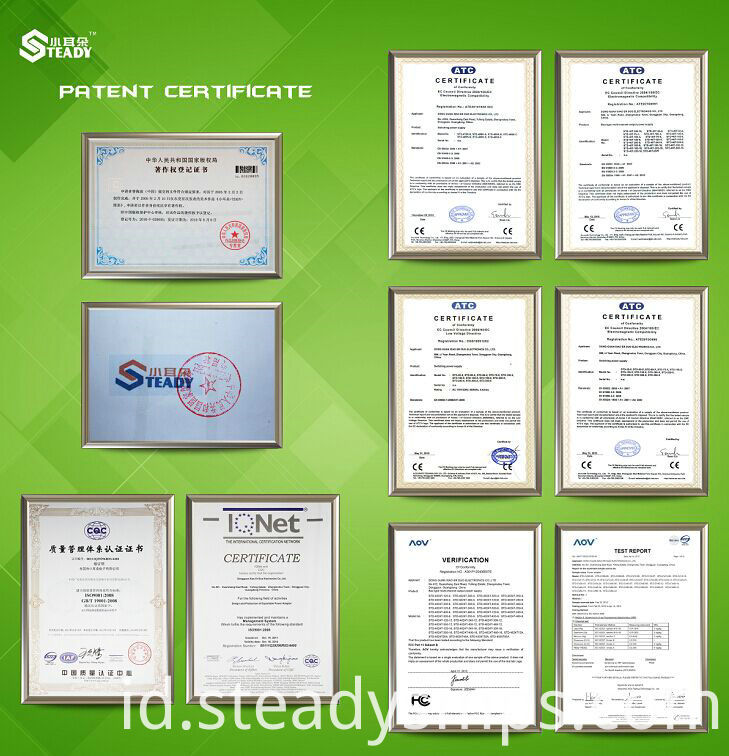 4. pengepakan dan pengiriman: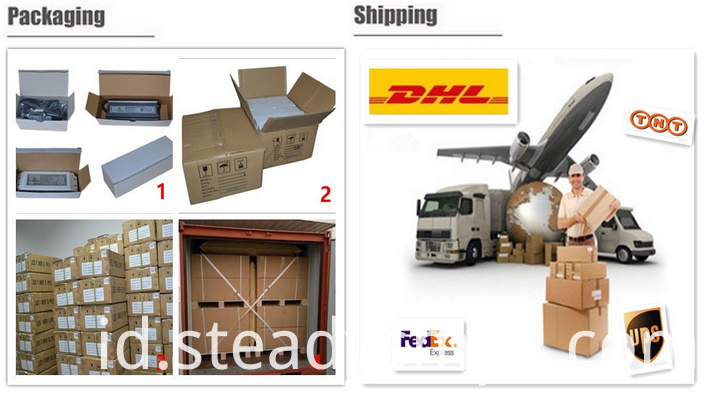 5. T & J:
MOQ: Tidak ada MOQ untuk pesanan percobaan, dan kami dapat menyediakan sampel gratis untuk menguji.
Pembayaran: T / T, Western Union, Paypal, Perdagangan Jaminan.
Pengiriman: 7 hari kerja untuk pesanan sampel, 12 hari kerja untuk 500 pcs.
FOB, EXW dan CIF semua tersedia.
Pengiriman pengiriman dikutip dengan permintaan Anda.
Memuat port: Shenzhen / Donguan / HongKong.
Diskon ditawarkan berdasarkan jumlah besar.
Harga: Dapatkan penawaran
6. Layanan Kami:
1. Layanan apa yang bisa kami berikan?
1. Semua pertanyaan akan dijawab dalam waktu 24 jam
2. Produsen profesional, welcom untuk mengunjungi website kami
3. OEM / ODM tersedia:
A. Cetak logo pada produk kami;
B. Spesifikasi yang disesuaikan;
4. Setelah Layanan-Penjualan:
A. Semua produk akan memiliki 100% burn-in test dan uji ketat kualitas sebelum pengiriman;
B. Pengiriman Cepat: 3-7days untuk sampel, 15-20 hari untuk produksi massal;
5. Efisiensi tinggi, rentang umur panjang, harga wajar & competetative, lead time yang cepat;
6. Kami memiliki tim insinyur kami, jika Anda memiliki pertanyaan tentang aplikasi LED Anda, beri tahu kami dengan bebas.
Kategori Produk : Alihkan Mode Catu Daya > Adaptor Daya Jenis Desktop