Distribusi Daya Terpadu 350W untuk kamera CCTV, 18 Saluran Power Supply Box 12V30A dengan output DC12V 30A untuk sistem kamera pengintai . Setiap saluran secara individual menyatu pada 1, 65 amp DC masing-masing. Output total 30 Amp DC. 18 Saluran Cctv Power Supply dapat memenuhi setidaknya 18 PCS kamera CCTV yang bekerja pada saat yang sama, Cctv Power Supply Box 12v30a dengan konsumsi daya yang lebih rendah, keandalan yang tinggi.
18 Kotak catu daya saluran untuk sistem kamera pengintai. Setiap saluran secara individual menyatu pada 1,65 amp masing-masing. Output total 30 Amp.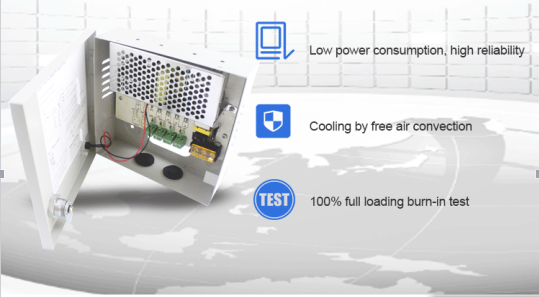 Fitur:
>> 110V / 220V ON / OFF switch, Dikunci
>> Setiap saluran dengan sekering atau PTC untuk perlindungan, sekering cadangan disertakan
>> Kinerja yang stabil, efisiensi tinggi, konsumsi daya rendah
>> Indikator LED daya AC
>> Pendinginan oleh konveksi udara bebas
>> 100% pembebanan penuh tes burn-in
>> Unit mempertahankan sinkronisasi kamera
>> Instalasi mudah menghemat waktu dan menghilangkan tenaga kerja yang mahal
>> Garansi 3 tahun
<
STD Series Box-Type CCTV Power Supply Specifications
MODEL
STD-40T-60-4
STD-40T-120-9
STD-40T-250-18
STD-40T-350-18
OUTPUT
Output voltage
12V
12V
12V
12V
Channel of output
4CH
9CH
18CH
18CH
Output current
1.25A*4
1.1A*9
1.15A*18
1.5A*18
Output current range
0~1.25A*4
0~1.1A*9
0~1.15A*18
0~1.5A*18
DC power
60W
120W
250W
350W
Voltage adj.range
±1%
±1%
±1%
±1%
Ripple and noise
120mVp-p
120mVp-p
120mVp-p
120mVp-p
Line Regulation
±0.5%
±0.5%
±0.5%
±0.5%
Load stability
±0.5%
±0.5%
±0.5%
±0.5%
Efficiency
Efficiency
85%
85%
85%
85%
INPUT
AC voltage range
AC85-132V /170-264V AC Switch 47-63Hz:240-370VDC
Leakage Current
<1mA/240VAC
Protection
Overload protection
105%-200%
T.C.
±0.03%(0-50℃)
Start.Rise.Hold time
200ms,100ms,20ms
Mechanical Shock
10-500Hz,2G 10min/1 Period,Time 60min
Insulation Strength
I&O:3KVAC,I&C:1.5KVAC I&C:0.5KVAC
Insolation resistance
I&O,I&C: O&C,500V DC/100M
Environment
Working Temperature
-10℃--40℃, 20%-90% RH


Store Temperature
-20℃--85℃, 10%-95% RH
Certification
Safety Standard
UL1012 REQUIREMENT(NOT APPLY FOR THE MARK)CLASS A
EMC Standard
FCC PART15JCONDUCTION CLASS A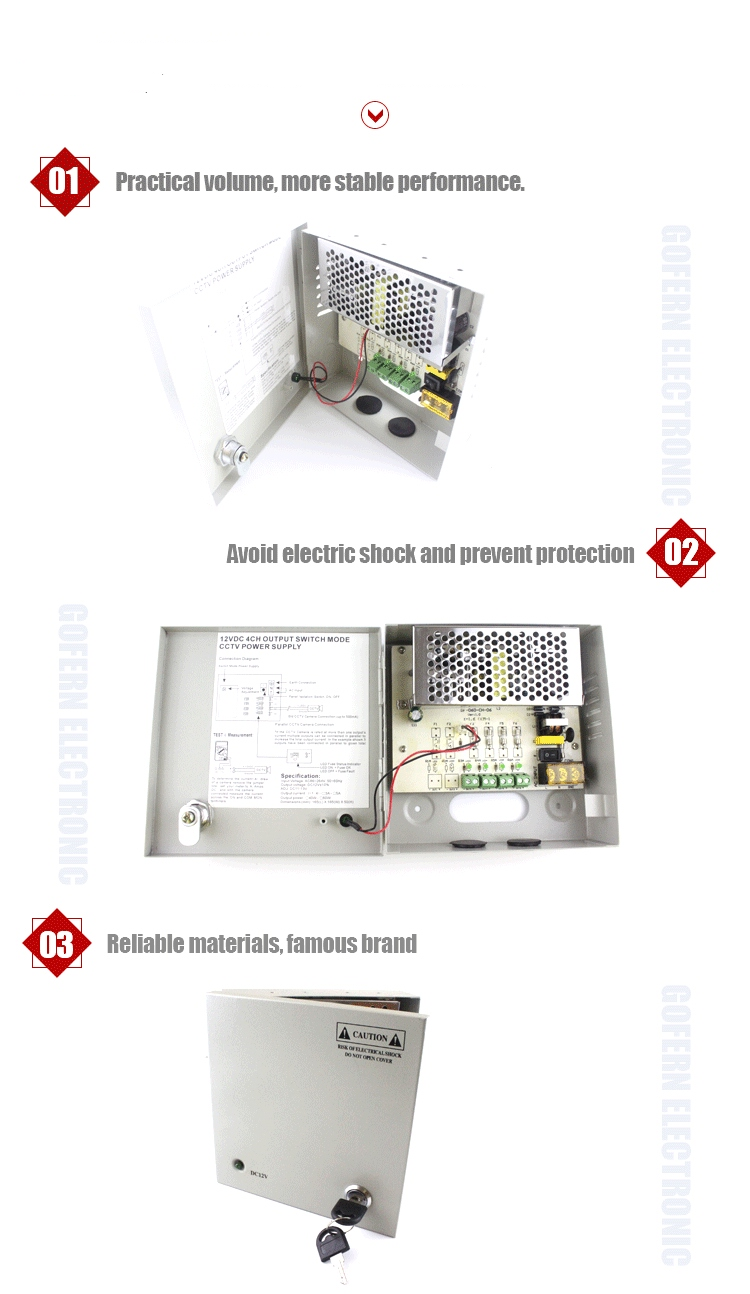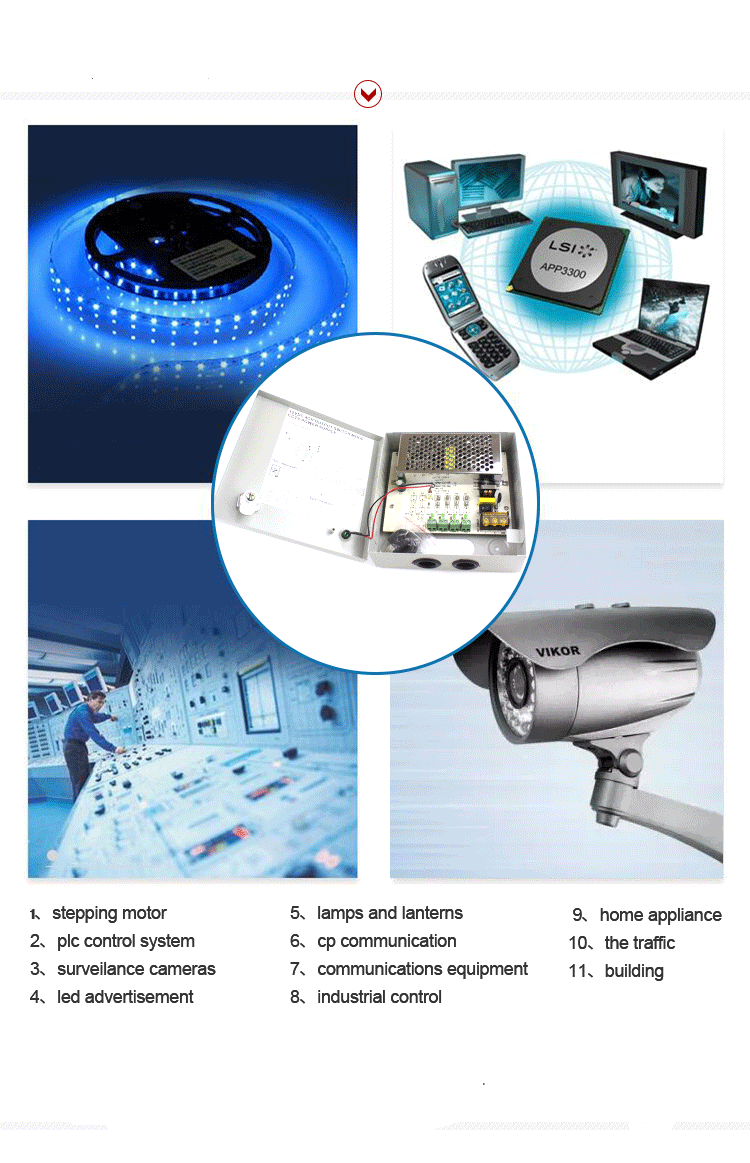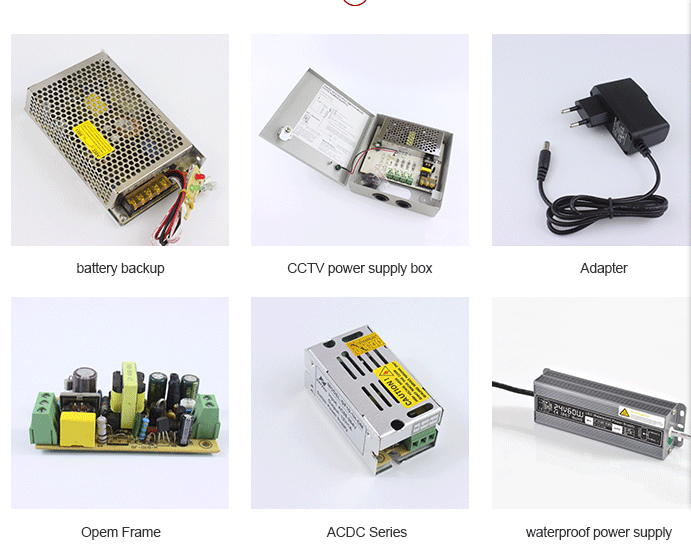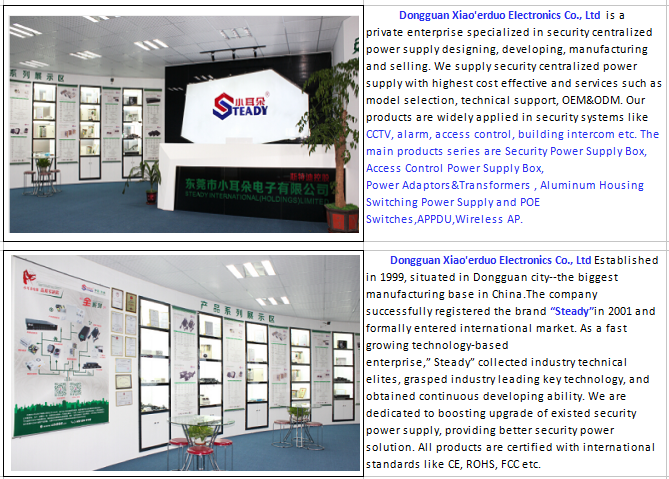 1. Proses Manufaktur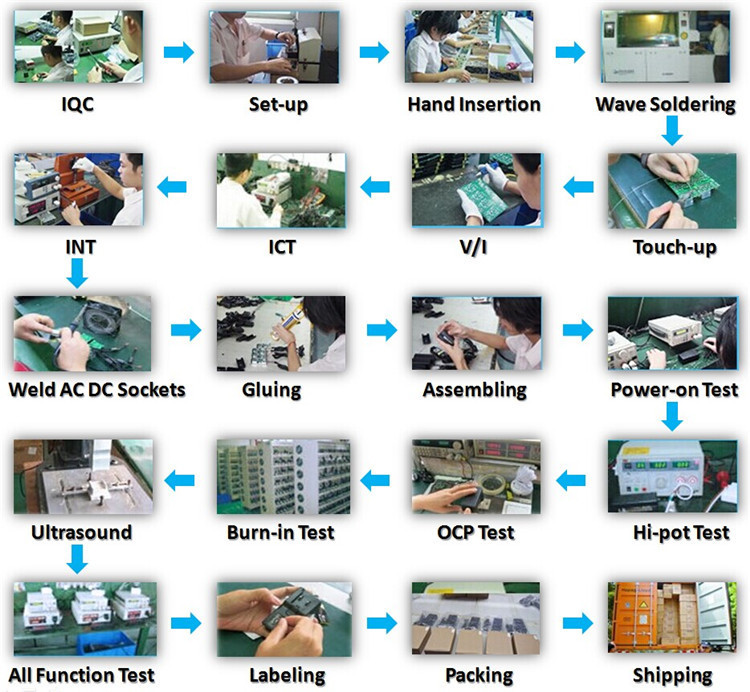 2. Pameran: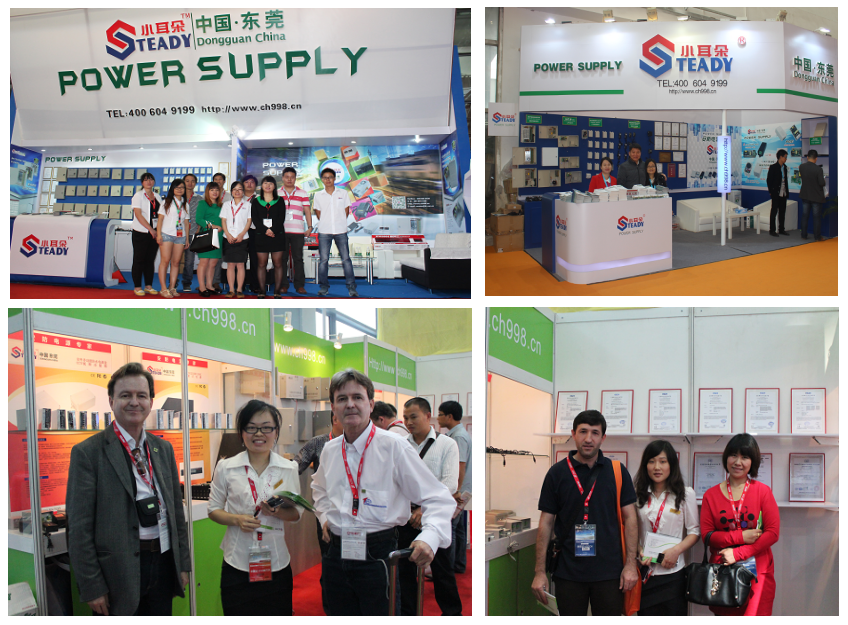 3. Sertifikasi: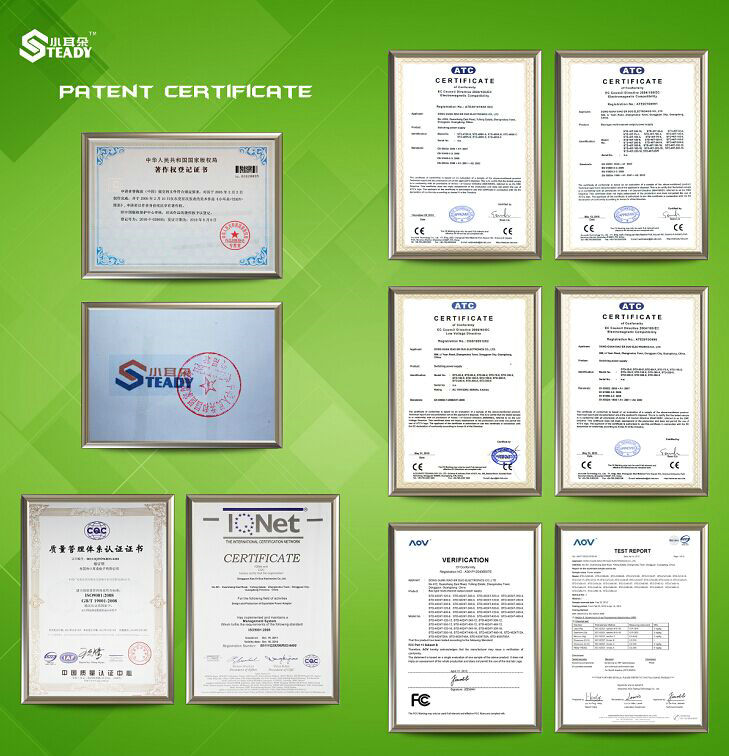 4. Pengepakan dan pengiriman: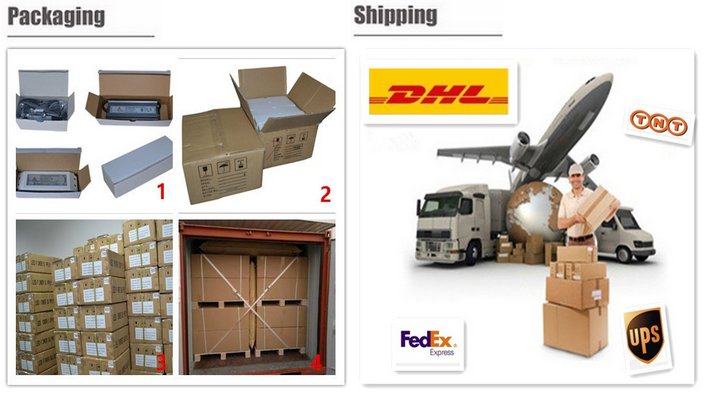 1. Layanan apa yang bisa kami berikan?
1 Semua pertanyaan akan dijawab dalam waktu 24 jam
2 Produsen profesional, welcom untuk mengunjungi situs web kami
3 OEM / ODM tersedia:
A. Cetak logo pada produk kami;
B. Spesifikasi disesuaikan;
4. Layanan purna jual:
SEBUAH. Semua produk akan memiliki 100% burn-in test dan uji ketat kualitas sebelum pengiriman;
B. Pengiriman Cepat: 3-7days untuk sampel, 15-20 hari untuk produksi massal;
Kategori Produk : Power Supply Kotak > Kotak Power Supply CCTV